EcoGold Coolfit™ Hunter Saddle Pad
EcoGold
FREE Shipping on All Orders Sitewide
FREE 45 Day Returns & Exchanges
100% No-Risk Money Back Guaruntee
---
Description

Shipping

Returns
The Intelligent Pad that keeps your horse cooler! ECOGOLD has integrated smart textiles in its CoolFit™Hunter Saddle Pad to create an intelligent saddle pad. The CoolFit™ pad senses the sweat of the horse and reacts by reducing its temperature and quickly evaporating moisture.
CoolFit Hunter saddle Pad, the intelligent pad that keeps your horse cooler.
ECOGOLD's CoolFit Hunter Pad combines a flexible shock absorption system with smart textiles, the most advanced moisture management and heat dissipation technology.
Made with smart textiles, a CoolFit™ underside layer and unique air-flow vent system, ECOGOLD's CoolFit hunter Pad is engineered to quickly dissipate heat and moisture away from the horse's body, providing a more comfortable ride.
The CoolFit hunter pad has:
Superior breathability:The air vent is located along the spine of the pad toward the rear and when the saddle is in place, the vent lies directly beneath the seat, allowing air to flow between the panels and circulate through the foam of the pad to the horses' back.

Non-slip security: Breathable and hypoallergenic, our non-slip material is neoprene-free. It's strong enough to stay in place yet soft on the skin. It keeps the horse's back comfortable while securing the saddle for a safe, competitive ride.

Impact protection:  Offering superior support force and responsiveness over conventional or memory foam, our High Resilience Foam reduces pressure at the points of greatest weight and quickly springs back after impact to provide support and protection to the horse's back.

Quick dry performance: The high-tech fabric is engineered to provide airflow and faster moisture evaporation. Our goal is to keep the horse as dry as possible, as quickly as possible.

Wither-relief: Anatomical design along with our Frictionless system mean the horse's back and withers will be comfortable in our saddle pads.
CoolFit Hunter Pad Dimensions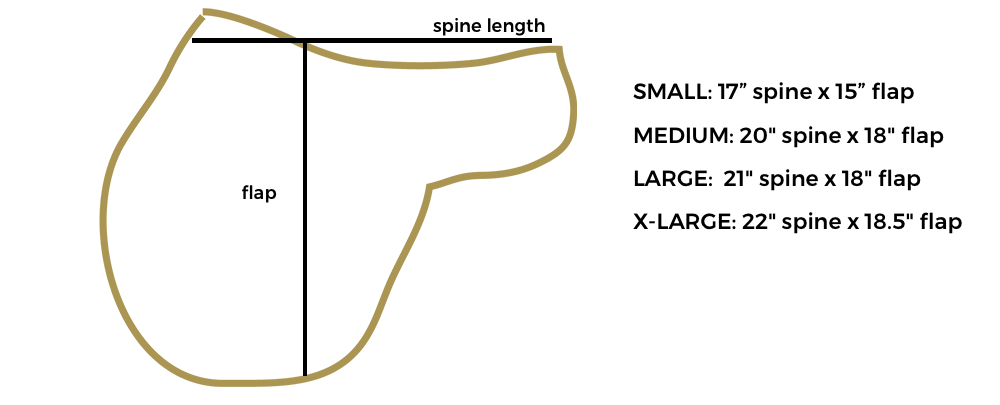 The fleece contour is 3.5" thick around the pad in sizes small, medium and large. It is 4″ thick around the XL.
How thick is the CoolFit Hunter Pad? The seat area has 0.5″ thick foam. Once you put the saddle on, it conforms to your horse's back.
Handmade to order in Canada. Ships from Canada with free shipping
All orders ship FREE every day, sitewide, no minimum!* Orders typically ship within 1-2 business days and typically deliver within 2-5 business days depending on the item (excluding custom items).
Every item's description contains the most accurate shipping info for each product so you can know exactly when to expect your order.
Some products ship from separate warehouses. This means if you order multiple items from different brands, orders may arrive in more than one package.
Enjoy FREE returns & exchanges every day on ALL orders! Request an exchange or return within 45 days of purchase date. We accept all returns in new condition. All returns will be 100% refunded in full to your original payment method.
Read our return policy HERE.
---
EcoGold Coolfit™ Hunter Saddle Pad
FAQ
"How do I contact Equiluxe?"
"How do I track my order status?"
Track your order status along the way with the Shop app available on iOS and Android. You'll always be emailed with your order confirmation & shipping details. SMS updates can also be prompted in checkout or on the order confirmation page.
"Which payment methods are available?"
Secure debit/credit card payment, Paypal, Shop Pay, Venmo, Google Pay, Amazon Pay, & more. Pay in 4 interest free installments with Paypal or Shop Pay.
"How do I make a return or exchange?"
"Where can I find the size chart?"
On the product page, click the Question Mark icon next to the "Size" selector. Scroll until you find your item or brand.
"Where do I enter a promo code?"
On Mobile: Go to checkout. Click the "Show Order Summary" dropdown. Enter your code in the box and click Enter.
On Desktop: Go to checkout. Enter your code in the large box on the right side of the page & press Enter.
Shipping
Fast & Free Shipping
All US orders ship free, & so do most international orders! Orders
ship within 0-2 business days, deliver within 2-5 days (US) or 5-10 days (international). Shipping info is in every product description.
Order tracking
Track your order status along the way with the Shop app. You'll always be emailed with your order confirmation & tracking number. SMS updates can also be prompted in checkout or
on the order confirmation page.
About us
Style you won't find in 'regular' tack stores.
Walk into any Dover, and find nothing but solid monotone colors & dated styles everywhere. We prioritize standing out
in the ring, where you want to look your best.
Because when you feel confident, you ride your best.
Who we are, how we started
Hi, I'm Kathryn! Founder, designer, customer care rep, and "everything else" at Equiluxe Tack. I grew up on horseback, head over heels for the classy & matchy-matchy revolution in the equestrian world. This is what inspired me to bring the unique, original vibe to life with my store, Equiluxe Tack back in 2020.
Our motto & what we stand for
When you shop at Equiluxe, you're supporting every small business and brand we're partnered with. You're standing with the go-getters who work hard to bring high quality, stylish, affordable equestrian fashion to the market.
Why choose Equiluxe?
We care.
1. About our customers. Personal, top of the line customer care is our utmost priority.
2. About sustainably made products.
3. The earth we ride on. We consider the welfare of the environment.
4. A meaningful impact in the homes of equestrians. Shopping here supports people, not shareholders.
The Equiluxe Style
Unique, matchy, classy, or colorful
Boring ends here. We cater to all tastes so you aren't left settling for "whatever the tack store has." Whether you're into classy & traditional, colorful matchy, or occasional diamonds, and everything in between. Browse around, we guarantee you'll find something you can't live without.